"I am a robot girl, coming alive when I make music."
Tini Bot lives in Dresden since 2012 and is part of various projects such as the Shampoo Shows, the Shampoo Nightingales, the Alternatives Akustikkollektiv, the Neustadt Art Festival, and co-founder of the Neustadt Art Kollektiv. She is a singer-songwriter from the Baltic Sea, north of Germany, and writes songs in German and English. She loves pianos, carries a MiniTaylor guitar, and plays on any instrument she can find. Her lyrics deal with wanderlust, emotional chaos, and political issues.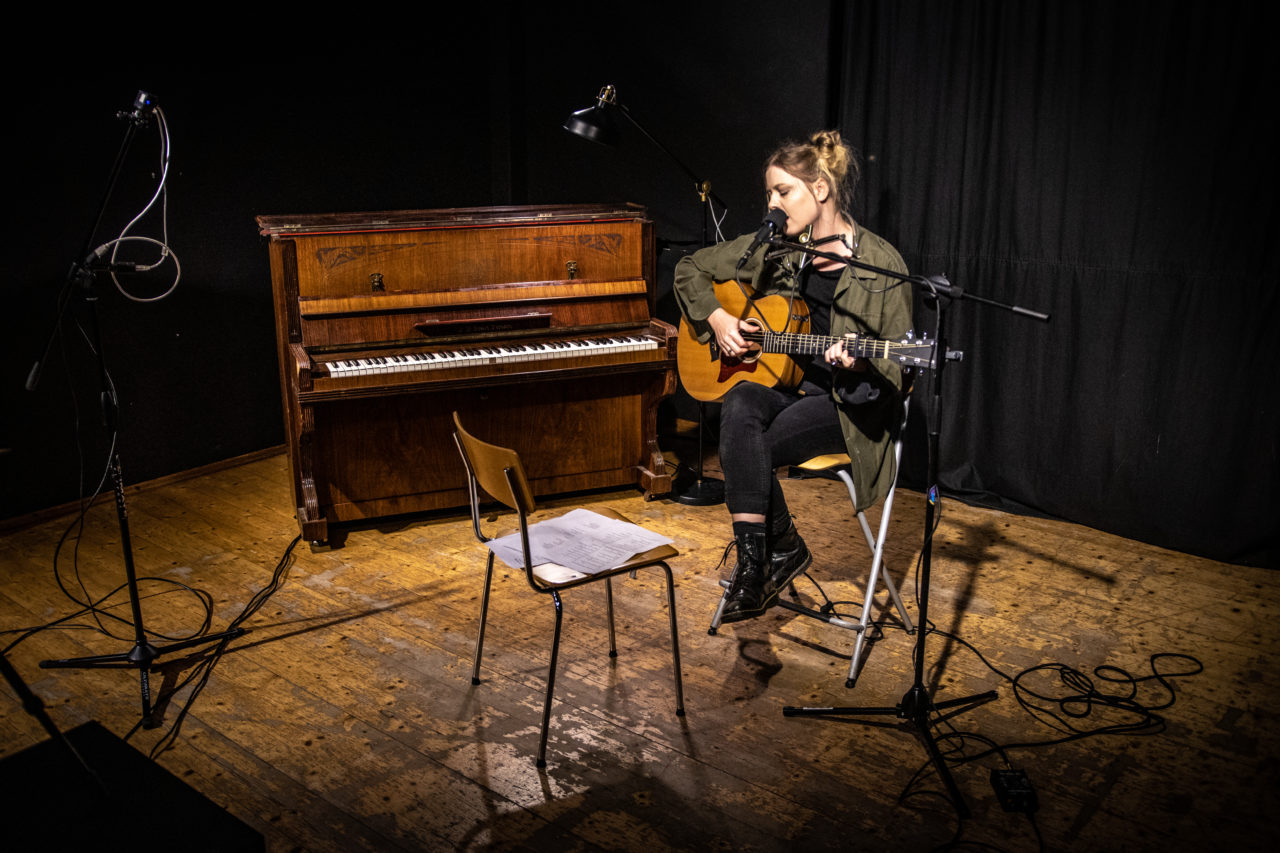 Photo Credit: Dave Mante
ABOUT
Tini Bot is a singer/songwriter from the north of Germany. Born and raised in Stralsund, she lived in London for a year after graduating. In 2010 she went to Coleraine, Northern Ireland, for a semester abroad, which had a strong influence on her in terms of collaborating with other musicians. She wrote songs with Greek, Finnish, and Irish friends, further developing her songwriting. Since then she is performing under the name Tini Bot.
Afterwards, she studied English literature, culture, and language in Dresden. During her studies, she met a whole network of amazing musicians and collaborated with them on various projects such as the Shampoo Shows, the Shampoo Nightingales, or the Alternatives Akustikkollektiv. In 2015, she started playing her songs in small cafés and clubs around town. In January 2020 she founded her own band with guitarist Adrian Röbisch (ANSA, Triple Trouble), bassist Phillip Rösch (Mike Seeber Trio), pianist Albrecht Schumann (Trojka), and drummer Olli Kunze (ANSA, Goldenhirsch, Risk It! , StrgZ , Aggressive, Kaltfront , TAMAS , Deathrite , COLDBURN , Worldeater).
Her idols are English singer-songwriters like Patti Smith, PJ Harvey, Stevie Nicks, Nick Cave, Leonard Cohen, Bob Dylan, or Jack White as well as German singer-songwriters such as Rio Reiser, Nina Hagen, or Gerhard Gundermann.
More information on past events at the archive.